Fitter Together


Ladies Bootcamp
 New Class Options Now Available!

Monday- Thursday: 10:30am – 11:15am & 7:45pm-8:30pm
Friday: 10:30am – 11:15am & 6:45pm- 7:30pm
Saturday: 11am – 12pm
The Ladies Bootcamp Difference
Calling Fenton Area Ladies!
Have you been thinking of starting a new fitness program? Are you unsure where to start or worried to start something too intense? Do you have goals to lose weight, lift and tone muscle and get in better shape for the summer months?
Common Anxieties about starting something new:
🔹What if I look silly?
🔸What if I can't do something?
🔹What if they judge me?
🔸What if the girls aren't kind?
This is a class where we all can lay our anxieties about getting started aside because we are all in the same place! I have progressions to each movement as well as Facebook lessons and challenges. 💪🏽
More About Bootcamp
Mission
Fitter Together's mission is to create a sisterhood of women who support and encourage each other as they unleash their untapped potential within through mindset, fitness and nutrition basics.
Vision
Fitter Together will be a safe haven for all women to either start their health & fitness journey for the first time or get back in the game with an amazing sisterhood of women supporting them.
Fenton Ladies, I have geared this program around what you've asked for. This is a beginners-intermediate class teaching you all of the foundational movements and then building on that to take yourself to the next level. Strength. Cardio. Core. Flexibility. You get it all!
Not sure where to start with eating healthy? I will give you practical advice on fast options here in the town of Fenton that will work with your busy schedule as well as recipe recommendations and much more!
I look forward to seeing my ladies, as always, I may be your leader but we are in this together.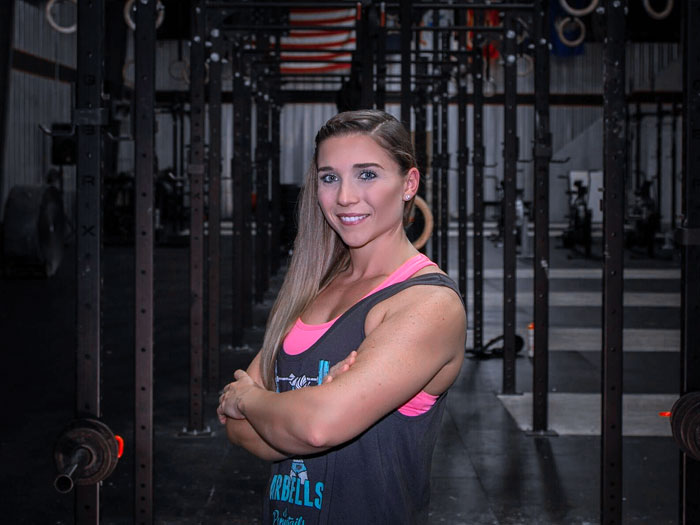 April has a Bachelors degree in Sports Medicine and her CrossFit Level 2 in coaching. She has been coaching for 6 years and has a burning passion to help women with their health and fitness goals while creating a fun and welcoming environment. We've all been that "new person" before and her goal is to make you feel at home on day one. Whether you are brand new to fitness, a fitness enthusiast or haven't put yourself first in a long time, this is the sisterhood for you.
We are passionate about fitness and our community. Get to
know our coaches and who we are.